3 Day – Tarzan and Jane
Price : $295/person       Duration :3 day 

SUPER SAVER!
Whats Included:
Transportation
Experienced bilingual guide
Bottled water
Entrance fees
Refreshments
Coffee/Hot chocolate
Snacks
Suggested items to bring for 3 Day Adventure:
Rain Gear, Scarf, Sweater, Hat, Sunglasses, Camera, Chapstick, Sunblock, Towels, Change of Clothes
YOUR FIRST DAY OF ADVENTURE WILL BEGIN WITH….
VOLCAN BARU SUMMIT SUNRISE
Whats Included:
Experienced Bilingual Guides
Coffee/Hot chocolate
Snacks
Bottled Water
Round trip Transport
Entrance Fees
Volcan Baru Summit highlights
Gorgeous Jungle Scenery
Action-Packed Outdoor Adventure
Spectacular Sunrise
Amazing Views
We will be leaving the Plaza or picking you up from your Hotel in Boquete to leave at 4am
What To Bring:
Camera, Rain Gear, Scarf, Hat, Sweater
Here at A1 Private Tours Boquete, we are proud to say that we specialize in 4×4 Jeep adventures to the Summit of Volcan Baru for sunrise. Our vehicles have been specially modified and equipped to handle the rugged terrain of Volcan Baru.
Your Volcan Baru 4×4 jeep adventure will begin at 4am in order to reach the Summit before sunrise. This will also give you an opportunity for some stargazing. We can pick you up from where you are staying locally here in Boquete or you may choose to meet us here at the plaza.
A1 Private Tours Boquete will provide you with one of Boquete's finest organically grown coffees, hot chocolate, bottled water and a light snack for your adventure to the Summit of Volcan Baru, located here in our beautiful town of Boquete, Panama. National Park entrance fee will also be included.
It will take us two hrs. to navigate the rugged terrain and to reach the Summit of Volcan Baru at the altitude of 11,398ft above sea level. At this hour, you will not be able to see much. Sometimes the Volcan does bless us with the presence of the infamous Black Panther who tends to cross the trail right in front of us. Be sure to always have your cameras ready because the jeep is outfitted with some pretty intense spotlights just for these occasions.
Once you are at the summit we will provide you with your beverages and snacks to have at your leisure. There is a small hike if you wish; this will take you up to the cross for your full panoramic view of Panama. You will be able to see out to the Pacific Ocean and over to the Caribbean Sea. The magnificent sunrise will follow soon after. We give you up to two hours of enjoyment at the summit. This gives you more than ample time for exploring, hiking if you so decide and many photo opportunities.
Leaving the summit and returning to the town of Boquete will take two hrs. Now that it is daylight, you will be able to see how rugged the terrain actually is. You will be able to see all the amazing birds and especially the infamous Quetzal bird, one of the most magnificent birds you will ever see. The foliage and landscape is also an unbelievable sight and something very spectacular to experience. So come ride with us and experience an Adventure of a lifetime. Be sure to wear jeans, sneakers or hiking shoes, bring: scarfs, hats, rain gear and fully charged cameras. Total adventure is 6-7 hours.
Once we arrive into town, you will have the opportunity for lunch and some down time to relax from your 4×4 adventure. We will be regrouping here at the plaza where A1 is based before your next adventure!!!
After Lunch we will then continue on with….
HONEY BEES AND BUTTERFLY HOUSE
What's Included:
Entrance Fees
Transportation
Bottled Water
Experienced Bilingual Guide
Honey Bees and Butterfly House Tour Highlights:
Honey Tasting
Educational
Flowers/Birds
What To Bring:
Camera, Rain Gear, Hat, Sunglasses.
A1 Private Tours Boquete is proud to announce the only and very unique Boquete Honey & Bee Finca. Specializing in numerous rare and raw unfiltered honeys. Experience a world-class honey tasting at the honey house; this gives you the opportunity to reflect on the unique biodiversity that only Boquete Panama can offer.
Your tour is designed for the entire family for honey and nature lovers alike. Lots of different types of birds will visit with you on your short walk around the Finca.
The Boquete Honey & Bee Finca has a great deal to offer, not just to the visiting tourists but also to the environment and the world. Walking through the finca allows you to understand the valuable role honeybees play in the grand scheme of things.
The honey produced there at the finca is varied in a multitude of flavors and some have even been tested for bioactivity. If you believe the phrase that "one person can change the world", look no further. Here in Boquete Panama, A1 Private Tours Boquete can attest to just that.
Total time will be approximately 3 hours, again have your cameras at the ready, tons of spectacular photos. Very interesting and educational for the whole family.
THIS WILL CONCLUDE YOUR FIRST DAY OF ADVENTURE!
SECOND DAY OF ADVENTURE WE WILL BE DEPARTING FROM OUR OFFICE IN THE PLAZA AT 9AM AND CONTINUING WITH…
EXPLORE BOQUETE ECO TOUR
What's Included:
Experienced Bilingual Guide
Transportation
Bottled Water
Snack
Get To Know Boquete Eco Tour Highlights:
Cloud Forest
Amazing Jungle Views
Waterfalls
Haunted Castle
What To Bring:
Camera, Sunglasses, Raingear.
A1 Private Tours Boquete offers a really unique way to see all of Boquete and what it's all about.
We will begin at the Welcome to Boquete Center; here you will be able to see most of Boquete from a bird's eye view. Absolutely breath taking views and photo opportunities. There is a coffee shop and bathrooms there for your convenience.
From here, we will head up into the Palmira highlands; here you will experience great views out to the pacific and a place called Boca Chica. We will navigate through local neighborhoods and you will have the opportunity to see how some of the indigenous live.
We will then make our way down to an off-road trail; here we will drive parallel to the Caldera River. The Caldera River runs down from the mountains and skirts by the edge of Boquete and moves with quite a force in the rainy season.
On this trail we will make numerous stops for picture taking and walking down to the big rocks next to the river. Lots of opportunities to taste some of the local wild fruits that Boquete has to offer also.
This will take us back into town where we will begin our climb up into through valley and mountain cloud forest. We will stop at the amazing natural rock formations where the rock climbers are always putting on an amazing show.
Crossing over a suspension bridge that traverses the Caldera River will then take us to through the many coffee plantations. We will stop along the way for a short tutorial and hands on experience with the local coffee.
From this point on…have your cameras at the ready, tons of birds. Traveling through the valley and up further into the cloud forest we will then arrive at the waterfall. Here we will spend some time, many opportunities for photos and also visits with the local indigenous. The indigenous here hand make all of their items that they offer for sale, this is a really unique opportunity.
Continuing on further up into the cloud forest, we will arrive at the hidden "Haunted" Castle. We will leave it at that. We will go into the property for you to walk through and feel the eeriness and take photos.
From here we will make our way back down into town. This is an amazing way to experience our beautiful town of Boquete Panama and A1 Private Tours Boquete welcomes you. Total tour time is approximately 3 hours. ENJOY!
THEN DOWN TO….
LOS CANGILONES CANYON RIVER
What's Included:
Transportation
Entrance Fees
Food and Beverages
Bottled Water
Experienced Bilingual Guide
River Canyon Highlights:
Gorgeous Jungle Scenery
Amazing Views
Sunbathing
Swimming
Relaxing
What To Bring:
Sunblock, Towels, Hat, Sunglasses, Camera, Dry Clothes, Swimsuit, Hiking Stick.
Los Cangilones de Gualaca is one of the best natural swimming locations in the province of Chiriquí and a major tourist attraction for the Gualaca district. Located just 30 minutes outside of Boquete Panama.
It is very well known for it's astonishingly beauty and it's refreshing water, visited by both Panamanians and foreigners. Los Cangilones de Gualaca is an all natural swimming pool, a rock formation that was created by the River Estí that formed this amazing narrow channel and large natural swimming pool.
Its name was due to the rock formations in the form of a vessel or pot created for thousands of years by the Esti River. (Translation: cangilón = bucket – a deep, cylindrical vessel, usually of metal, plastic, or wood, with a flat bottom and a semicircular bail, for collecting, carrying, or holding water, sand, fruit, etc.)
On a nice hot sunny day there is nothing better than jumping from the rocks into the river and drift along the rocky canyon to the pool at the end. If you are cold after swimming you can just lie on the rocks to sunbathe.Total excursion time is 5 hours.
THIS WILL CONCLUDE YOUR SECOND DAY OF ADVENTURE!
MOST POPULAR:

Island Adventure

// Snorkeling

WHATS INCLUDED:
Roundtrip Transport from Boquete
Experienced Bilingual Guides
Snorkeling
Full Lunch and Drinks
Towels and Hammocks
Private Boat Transport
Island Adventure Highlights:
Gulf of Chiriqui National Park
Snorkeling: Fish, Turtles, and Eels
Secluded White-Sand Beach

Island Adventure description:
From Boquete, we'll drive 1.5 hours to Boca Chica, a small fishing village on the Pacific Coast. Then, we'll pass through the mangrove forested volcanic islands of Laguna de Chiriqui toward the Gulf of Chiriqui National Marine Park, a 14,740 hectare marine park with around 25 uninhabited islands which serves as a refuge for howler monkeys, leatherback and hawksbill turtles, tiger herons, and exotic fish. There are no mammals on Isla Bolaños due to no fresh water, to see howler monkeys, we recommend to stay overnight in Isla Boca Brava (we can drop you off at the hotel after the tour).

The sun tends to shine over the white sand, palm-lined beaches in Gulf of Chiriqui even when it's raining everywhere else! Depending on visibility and climate, we'll be snorkeling around one of the beautiful islands and pass the late morning and better part of the afternoon lunching, exploring, swimming, relaxing in a hammock, and playing on the white sand beaches of Isla Gamez or Isla Bolaños.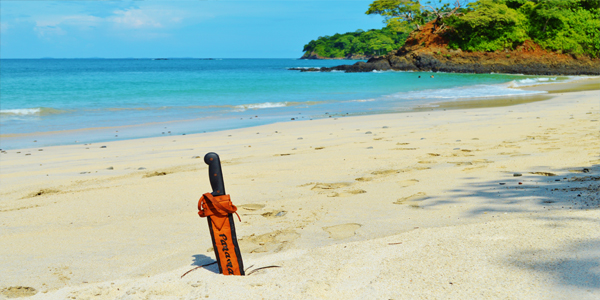 Time:
Tour: 7:00am – 6:00pm
Location:
Gulf of Chiriqui National Park, Chiriqui Province, Panama
Weather:
The Gulf of Chiriqui National Marine Park is located on the Pacific side and weather has little to no impact on this trip. Sunny year round in the mornings and noon-time. It may rain during the evenings during peak rainy season (does not affect the trip as it is during the return time). Also, only during peak rainy season (Sept-Oct), there may be some rain during the day for 10-minute bursts. It is recommended to just get in the warm ocean water during that time. Trip will not be cancelled if it is raining in Boquete, as that has no relation to where the trip goes.
Meeting Place:
At the A1 Office in Plaza Los Establos on Main Street in Boquete.
Lunch & Drinks
For our hearty lunch, we can accommodate most diet modifications as everything is on the side, buffet style, and you can assemble as you wish. Included: seasonal fruits (apples, oranges, pineapple, grapes), fresh coconut from the island, seasonal vegetables (bell peppers, cucumbers, lettuce, tomatoes, carrots, broccoli), bread, meat (turkey, salami, or ham), cheese, condiments, cookies, chips and salsa or guacamole, and drinks (fresh water, iced tea, fruit juice, as well as alcoholic drinks such as rum cocktails, national beers, and wine). (Items are subject to change based on seasonal availability).
Trip notes:
Trip details may change due to severe weather, sea conditions, unforeseen events.
The island is located in a National Marine Park, with no structures allowed, there are no facilities/bathrooms available. The bathrooms available in Boca Chica are extremely basic (bring your own toilet paper if you need it).
4-person minimum, however if you book with enough time in advance, it will give us a chance to add-on and confirm the trip.
Approximate Adventure schedule (approximate times can change daily)
– 7:00am – Checkin at the A1 Office
– 7:00am – 8:30am – Transport to the Pacific Coast
– 8:45am – 9:15am – Boat Ride from Boca Chica to Isla Bolaños, through the Gulf of Chiriqui National Marine Park.
– 9:15am – 2:00pm – Island Time.
– Free time to snorkel, hike, explore, play, relax, swim.
– Lunch and drinks (non-alcoholic and alcoholic drinks), towels, snorkels, and hammocks included.
– 2:30pm – 3:00pm – Return Boat Ride to Boca Chica
– 3:15pm – 5:00pm – Transport from Boca Chica to Boquete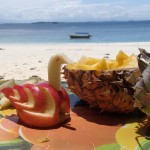 What to bring:
Clothes to get wet
Hat
Shoes/Sturdy Water Sandal to explore the island
Sun Block
Water Bottle
THIS WILL CONCLUDE YOUR THREE DAY ADVENTURE!