POPULAR  Panama Tours:
Island Adventure/
River Canyon
WHATS INCLUDED:
Roundtrip Transport from Boquete
Experienced Bilingual Guides
Snorkeling Gear
Full Lunch and Drinks
Towels and Hammocks
Private Boat Transport
Island Adventure Highlights:
Gulf of Chiriqui National Park
Snorkeling: Fish, Turtles, and Eels
Secluded White-Sand Beach
Island Adventure description:
From Boquete, we'll drive 1.5 hours to Boca Chica, a small fishing village on the Pacific Coast. Then, we'll pass through the mangrove forested volcanic islands of Laguna de Chiriqui toward the Gulf of Chiriqui National Marine Park, a 14,740 hectare marine park with around 25 uninhabited islands which serves as a refuge for howler monkeys, leatherback and hawksbill turtles, tiger herons, and exotic fish. There are no mammals on Isla Bolaños due to no fresh water, to see howler monkeys, we recommend to stay overnight in Isla Boca Brava (we can drop you off at the hotel after the tour).

The sun tends to shine over the white sand, palm-lined beaches in Gulf of Chiriqui even when it's raining everywhere else! Depending on visibility and climate, we'll be snorkeling around one of the beautiful islands and pass the late morning and better part of the afternoon lunching, exploring, swimming, relaxing in a hammock, and playing on the white sand beaches of Isla Gamez or Isla Bolaños.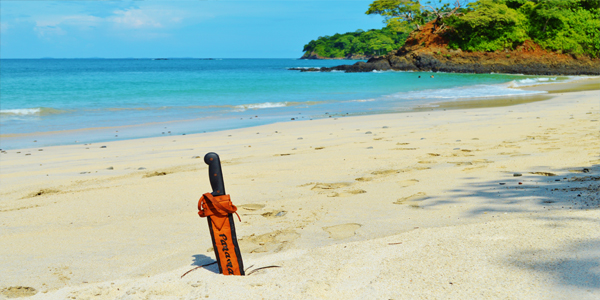 Time:
Tour: 7:00am – 4:00pm
Location:
Gulf of Chiriqui National Park, Chiriqui Province, Panama
Weather:
The Gulf of Chiriqui National Marine Park is located on the Pacific side and weather has little to no impact on this trip. Sunny year round in the mornings and noon-time. It may rain during the evenings during peak rainy season (does not affect the trip as it is during the return time). Also, only during peak rainy season (Sept-Oct), there may be some rain during the day for 10-minute bursts. It is recommended to just get in the warm ocean water during that time. Trip will not be cancelled if it is raining in Boquete, as that has no relation to where the trip goes.
Meeting Place:
At the Gazebo located in Plaza Los Establos on Main Street in Boquete.
Lunch & Drinks
For our hearty lunch, we can accommodate most diet modifications as everything is on the side, buffet style, and you can assemble as you wish. Included: seasonal fruits (apples, oranges, pineapple, grapes), fresh coconut from the island, seasonal vegetables (bell peppers, cucumbers, lettuce, tomatoes, carrots, broccoli), bread, meat (turkey, salami, or ham), cheese, condiments, cookies, chips and salsa or guacamole, and drinks (fresh water, iced tea, fruit juice, as well as alcoholic drinks such as rum cocktails, national beers, and wine). (Items are subject to change based on seasonal availability).
Trip notes:
Trip details may change due to severe weather, sea conditions, unforeseen events.
The island is located in a National Marine Park, with no structures allowed, there are no facilities/bathrooms available. The bathrooms available in Boca Chica are extremely basic (bring your own toilet paper if you need it).
4-person minimum, however if you book with enough time in advance, it will give us a chance to add-on and confirm the trip.
Approximate Adventure schedule (approximate times can change daily)
– 7:00am – Checkin at the Gazebo
– 7:00am – 8:30am – Transport to the Pacific Coast
– 8:45am – 9:15am – Boat Ride from Boca Chica to Isla Bolaños, through the Gulf of Chiriqui National Marine Park.
– 9:15am – 2:00pm – Island Time.
– Free time to snorkel, hike, explore, play, relax, swim.
– Lunch and drinks (non-alcoholic and alcoholic drinks), towels, snorkels, and hammocks included.
– 2:00pm – 2:30pm – Return Boat Ride to Boca Chica
– 2:30pm – 4:00pm – Transport from Boca Chica to Boquete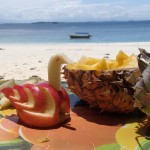 What to bring:
Clothes to get wet
Hat
Shoes/Sturdy Water Sandal to explore the island
Sun Block
Water Bottle
THIS WILL CONCLUDE YOUR FIRST DAY OF ADVENTURE!
SECOND DAY OF  YOUR FUN IN THE SUN WILL BE  RIVER CANYON            
ENJOY THIS ACTIVE ADVENTURE AND REFRESHING RIVER WATER RUNNING THROUGH THE RARE ROCK FORMATIONS OF LOS CANGILONES RIVER CANYON
What's Included:
Transportation
Entrance Fees
Food and Beverages
Bottled Water
Experienced Bilingual Guide
River Canyon Highlights:
Gorgeous Jungle Scenery
Amazing Views
Sunbathing
Swimming
Relaxing
What To Bring:
Sunblock, Towels, Hat, Sunglasses, Camera, Dry Clothes, Swimsuit, Hiking Stick.
Los Cagilones River Canyon Trip description
This is the perfect afternoon for those who just completed a morning hike, coffee tour, or other activity. Located in the district of Gualaca, these unique rock formations have survived time and weather. A river crossing the canyon allows jumping from it (up to 12 feet or 4 meters). Many people enjoy swimming in the aquamarine waters, others enjoy climbing the canyon's walls, and even more just like to relax and sunbathe on the warm rock surface.
The Canyon has been in Gualaca for thousands of years, as a geological formation that was pushed up from the ocean during the formation of the Isthmus of Panama. It's interesting to see ancient sea fossils at this elevation.
*Note:* this trip does not visit the Caldera hot springs. After feedback from clients as well as our own personal
Time:
09:00am – 17:00pm
Location:
Gualaca and Caldera Towns, Chiriqui Province, Panama.
Weather:
The tour goes rain or shine. The location is further south of Boquete, in a generally sunnier and warmer area with less rain year-round. During peak rainy season months (Sept-Oct) there may be afternoon rain, but you are still able to swim in the river and canyon, and enjoy the trip. Only during flash floods and extreme weather events will we cancel this tour.
Meeting Place:
At the Gazebo located in Plaza Los Establos side entrance on Main Street in Boquete.
Trip Notes:
Los Cangilones Mini-Canyon is vehicle accessible, being available to all ages and fitness levels.
There are no facilities at these locations, as the trip is in it's most natural and local form.
Trip details may change due to severe weather or unforeseen events.
Approximate Tour Schedule (approximate time that can change daily)
09:00am – Meet at Gazebo in Plaza **Please be on time to not keep other guests waiting**
09:00am – 09:45am – Transport to Cangilones Mini-Canyon in Gualaca
09:45am-10:00am – Briefing
10:00am – 12:00pm – Free for all
12:00pm – 13:00pm – Lunch
13:00pm – 15:30pm – Free for all
15:30pm – 16:00pm – Pack up and Load up
16:00pm – 16:45pm – Return transport to Boquete
THIS WILL CONCLUDE YOUR SECOND DAY OF ADVENTURE!