RIVER CANYON
Price : $60/person             Duration : 7 hours
Enjoy This Active Adventure and Refreshing River Water Running through the Rare Rock formations of Los Cagilones River Canyon
What's Included:
Transportation
Entrance Fees
Food and Beverages
Bottled Water
Experienced Bilingual Guide
River Canyon Highlights:
Gorgeous Jungle Scenery
Amazing Views
Sunbathing
Swimming
Relaxing
What To Bring:
Sunblock, Towels, Hat, Sunglasses, Camera, Dry Clothes, Swimsuit, Hiking Stick.
Los Cagilones River Canyon Trip description
This is the perfect afternoon for those who just completed a morning hike, coffee tour, or other activity. Located in the district of Gualaca, these unique rock formations have survived time and weather. A river crossing the canyon allows jumping from it (up to 12 feet or 4 meters). Many people enjoy swimming in the aquamarine waters, others enjoy climbing the canyon's walls, and even more just like to relax and sunbathe on the warm rock surface.
The Canyon has been in Gualaca for thousands of years, as a geological formation that was pushed up from the ocean during the formation of the Isthmus of Panama. It's interesting to see ancient sea fossils at this elevation.
*Note:* this trip does not visit the Caldera hot springs. After feedback from clients as well as our own personal visits, we cannot recommend visiting the hot springs.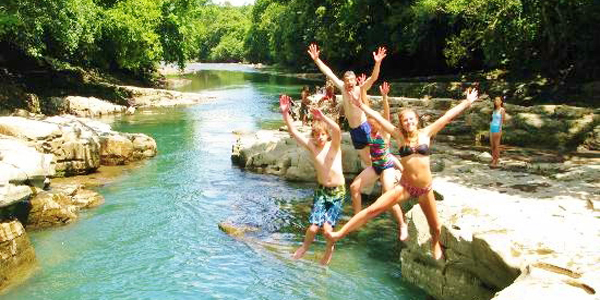 Price:
**Special Online Price: $60 per person (reduced for a limited time).**
Regular Price: $70 per person.
Special price may not available during holiday weeks.
Reserve your space directly with us.
Time:
0900am – 16:00pm
Location:
Gualaca and Caldera Towns, Chiriqui Province, Panama.
Weather:
The tour goes rain or shine. The location is further south of Boquete, in a generally sunnier and warmer area with less rain year-round. During peak rainy season months (Sept-Oct) there may be afternoon rain, but you are still able to swim in the river and canyon, and enjoy the trip. Only during flash floods and extreme weather events will we cancel this tour.
Meeting Place:
At the Gazebo located in Plaza Los Establos on Main Street in Boquete.
Trip Notes:
Los Cangilones Mini-Canyon is vehicle accessible, being available to all ages and fitness levels.
There are no facilities at these locations, as the trip is in it's most natural and local form.
Trip details may change due to severe weather or unforeseen events.
Approximate Tour Schedule (approximate time that can change daily)
09:00am – Meet at Gazebo in Plaza **Please be on time to not keep other guests waiting**
09:00am – 09:45am – Transport to Cangilones Mini-Canyon in Gualaca
09:45am-10:00am – Briefing
10:00am – 12:00pm – Free for all
12:00pm – 13:00pm – Lunch
13:00pm – 15:30pm – Free for all
15:30pm – 16:00pm – Pack up and Load up
16:00pm – 16:45pm – Return transport to Boquete
Combine this tour with other tours for amazing savings!
WHY CHOOSE A1
Experienced Team
We have hand-selected our guides with your safety, comfort and enjoyment in mind. The A1 Team is dedicated to you and is a well-rounded family. In combining family oriented employees with our experience and knowledge of our professional standards and qualifications that you've come to expect. A1 has an outstanding staff of experienced, knowledgeable, professional employees who value your adventure as much as you do! A1 resides and works in Boquete Panama. If it's an adventure vacation of a lifetime that you are looking for, book with A1.
Tailored Vacation
Our clients experience and happiness is A1's number one priority. Our unique combination of local knowledge and global expertise, A1 is able to provide you with something special and that is a vacation of a lifetime. A1 believes that you should be treated uniquely. We will tailor make your vacation to fit your every need perfectly. We are sure that you don't go away on a vacation often, so why not book with A1 for an adventure vacation of a lifetime!
Happiness Guaranteed
A1 is so confident in our service that we guarantee it. Our customer lived philosophy means that we are never more than a phone call away and will do absolutely everything we can to resolve any issue to your complete satisfaction.
Come visit and get to know us at A1 Private Tours Boquete the leading Boquete Panama tour operator and provider. All of our guides are from Boquete Panama and have the most experience and knowledge of culture and the area.